I've downloaded and tested a few hundred iPhone and iPad apps.  One thing that I've noticed is that many of the top rated and ranked apps are pretty scammy.  Take for example "Night Vision."
It's a top app in under Utilities for both paid and free iPhone apps.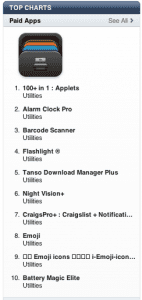 If you actually download and test the app, you'll find it doesn't work at all. In fact, I found it made objects darker, not brighter.  See these photos with and without the app of the exact same room in the exact same lighting.
The app tries to get you to download other apparently scammy apps.  I'm guessing this kind of "cross selling" is how Night Vision got  most of its downloads.
Another clever trick they play is when you look at the app customer ratings on the iPhone App Store you see that it has 4.5 stars:
But when you look on the desktop web you see the overall ratings are vastly lower and that they seem to game the system by releasing "new versions" to reset their ratings and then probably paying people to write positive reviews:

Companies like TapJoy let you pay to get in the Top 25, and then once you are there you can get "organic" downloads by being on the toplists.
Another platform, another way to game it.